-Wins for Burrowes and Thomas in female singlesCHASE Academy and Charlestown Secondary School registered team victories over the weekend in the Guyana Table Tennis Association, NSC, Ministry of Education, National Schools' Novices, Elite Teams and Singles Table Tennis Championships, which was played at the Cliff Anderson Sports Hall.Chase Academy were able to defeat defending champions Bishops' High School in the Elite U-18 Boys team battle, while Charlestown got past all rivals in the Novice female division.In the singles, 14-year-old Marian Academy student, Thuraia Thomas, repeated as U-18 Elite women's winner, while Charlestown Secondary's fifth former, Samirah Burrowes, gained a second win when she defeated her twin sister, Sufah, in the Novice female finals.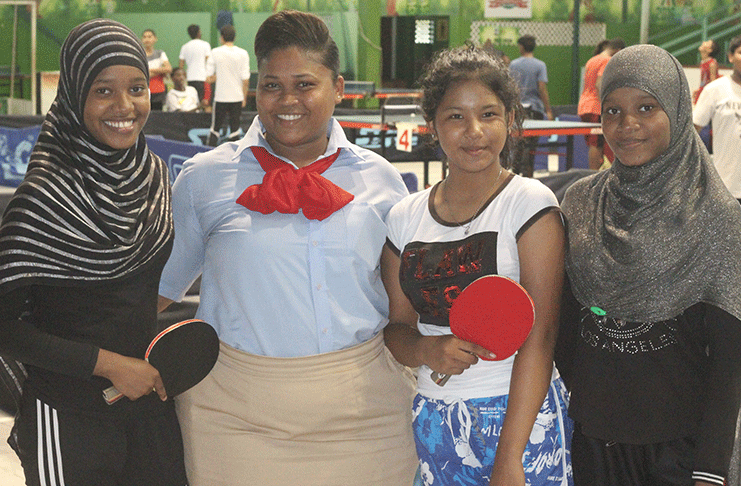 Charlestown Secondary School players: Samirah Burrowes, Coach Candacy McKenzie, Lisana Ramascindo and Sufah Burrowes.OLD RIVALRYIt boiled down to the old rivals duking it out in the Elite U-18 Boys' team battle.Bishop's High went ahead with Jonathan Van Lange defeating Terrence Rausch 3-1 (12-10, 13-11, 8-11, and 14-12), before Jamal Nicholas tied the clash with a 3-1 (12-10, 6-11, 11-9, 11-6) win against Krystian Sahadeo.Nicholas and Rausch then edged out national players, Van Lange and Sahadeo 3-2 in the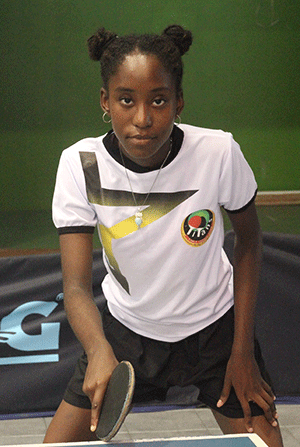 Thuraia Thomas defended her U-18 Elite Women's title.doubles. They won 10-12, 5-11, 11-8, 11-6, 11-4) to go on top.Van Lange kept Bishop's in with a 3-2 (13-11, 9-11, 11-7, 6-11 and 11-9) win against Nicholas, before Rausch got past Sahadeo 3-0 (11-8, 11-6, 11-8) in the final clash to seal the win.According to Nicholas, the side did some training for their rivals. "It was great to beat the guys this year."Thomas defeated Crystal Melville in the final of the U-18 female battle, that game ended 3-0 (11-7, 11-7 13-11).IMPROVEMENTMeanwhile, Charlestown females were able to work their way to the top in the Novice division. When they played in the last competition, none of the players registered a win, this year round they have become a dominant force.The girls credit table tennis coach Candacy McKenzie for their improvement.Not only did Charlestown finish first via the racquets of the Burrowes sisters, but their B team (made up of Lisana Ramascindo and U. Hackett) also finished second.Meanwhile, in their battle yesterday in the Novice female finals, Samirah got past her sister, Sufah 2-1 (12-10, 10-12, 11-4).
read more